DUI Attorney
I've Been Arrested for DUI and Think I Need a DUI Attorney. What do I do?
If you have been arrested for a DUI you need immediate DUI Representation through an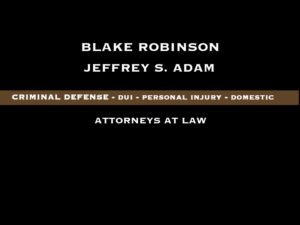 experienced DUI Attorney.  There are certain actions you must take within 14 days of receiving a DUI.  You should contact a DUI lawyer immediately to preserve your driving privileges.
How Much Does It Cost to Talk to a DUI Lawyer About My DUI?
For typical DUIs we charge on a flat fee basis.  If it's just your first DUI you usually qualify for diversion.  Before you can get on diversion, you should always have a a qualified DUI attorney look over your case to see what's right for you. At an initial appearance you have three options.  Those three options are:
Plead Guilty
Plead Not Guilty
Plead No Contest.  If you plead no contest, you will still be found guilty, however it's not the same as pleading guilty.
What Happens If I Want to Try to Get a DUI Diversion?
After your initial appearance, a diversion conference or a "status hearing' is usually set up a few weeks down the line.  After your initial appearance for a DUI, your DUI attorney should file  discovery requests with the prosecutor.  This should include a request for video, sobriety test results, and any other officer notes taken during or after the arrest.  After a lawyer has looked over this discovery, they should be able to give you sound advice as to what your options are.
What Happens After a Second DUI?
If it's your second DUI, it's very unlikely you will be allowed diversion and you will have to make the choice between your three options at your initial appearance/arraignment.  Typically it is very early in your DUI case and evidence has still not been submitted to the prosecutors so a guilty plea may not be in your best interest.
What Happens After a Third DUI?
On your third DUI and each one after, it is a felony.  Because it's a felony, you will have the right to a preliminary hearing, which is an extra hearing that you wouldn't get for misdemeanor charges.
Whether your first DUI, second, or 5th, it's important to contact a DUI attorney in the Manhattan, KS area that knows what to look for to give you advice as to your best options.